4 Questions to Jürgen Stein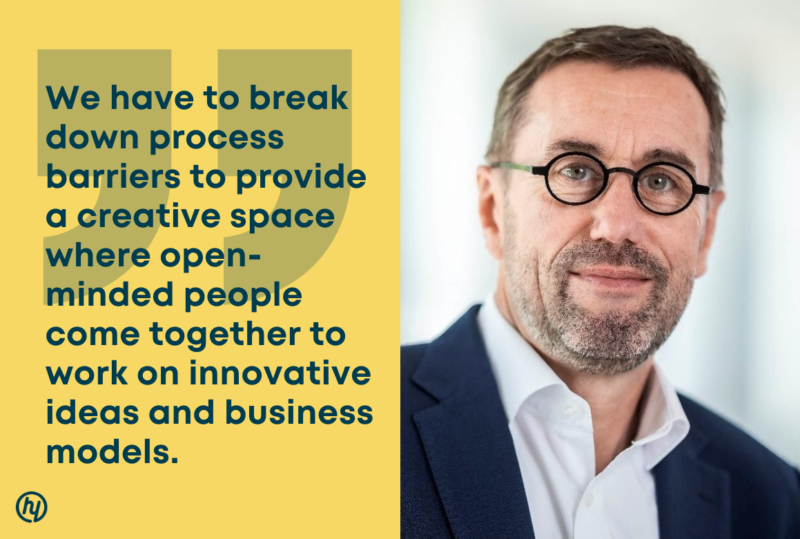 Jürgen Stein is the Head of Innovation at EnBW. In June 2021, Jürgen and the team at EnBW received the "Digital Lab Award 2021" from the business magazine Capital. The company is thus once again one of the best innovation labs in Germany this year. In its role, EnBW Innovation supports and mature start-ups in their ongoing progress as a competent and financially strong partner.
Hi Jürgen, congratulations on being awarded again by EnBW Innovation for one of the best innovation labs in Germany. Your successes include start- and scale-ups such as SMIGHT Grid, LIV-T, WTT CampusONE or ChargeHere. Can you tell us and our readers what steps are necessary to build a sustainable, successful and comprehensive innovation pipeline, like the one that exists at EnBW?
Building new businesses requires a good sense of a "problem" that has to be solved and an idea for a good solution. This requires people who think critically and are willing to find solutions. When these ideas have matured and become stable business models, entrepreneurship and perseverance are needed. To be successful in all these areas, we have to be good hosts and coaches.  We have to break down process barriers to provide a creative space where open-minded people come together to work on innovative ideas and business models. Clear strategic principles prevent us from getting lost too quickly in a space that is too big. Together with the Innovation and business units, we have defined key areas for the future. In addition to developing our own ideas and businesses, we also cooperate with external startups, building the bridge between them and the Group, and sometimes also financing external teams in their early stages. We have also launched a finance-oriented corporate venture capital fund through New Ventures, which invests in external startups.
You will be hosting the "Innovation Weeks" soon.  What does this entail?
Every day, we have to constantly strike the right balance between proximity to the Group and freedom from Group processes. This involves repeatedly explaining that innovation is subject to different rules, controls and processes than the existing business. For us, this "ambidextry" has a lot to do with communication – explaining what is different but also inviting colleagues to embark on this journey again and again. The potential offered by the employees of a group like EnBW is huge. We want to make even better use of this and will spend six weeks focusing on the topic of innovation in our internal channels. With various formats such as live talks, interviews and podcasts, we are creating space for exchange and dialog, we are looking beyond our EnBW horizons and talking to many exciting founders, entrepreneurs and scientists about trends, networks and mindsets, among other things.
The focus of your venture activities is on the innovation fields of "connected mobility", "connected home", "urban infrastructure" and "digital utility". Which emerging business models do you particularly enjoy watching grow?
In general, I enjoy seeing all of our innovations growing. But let me give you two current examples: In the area of connected mobility, I immediately think of BEN Fleet Services. BEN takes over the operation of vehicle fleets for car sharers and other mobility service providers. In return, BEN's customers can concentrate more on the core business of their mobility services. This is a market that is currently very dynamic. Our investment in DZ4 in the Connected Home business area is at least as exciting. They are one of the first German providers of solar systems for rent. The business model is close to our core business and convinced us immediately: DZ-4 reduces the capital requirement through favourable rental models and thus makes it easier for many households to decide in favour of their own solar system with battery storage.
You started building your digital ecosystem back in 2013 and have accordingly built up a strong network of startups and innovators. What is the goal of your network strategy? 
New ideas won't be born alone in a chamber, but rather close to the market and the customers, to their needs and problems. Through observation and exchange with others. Networks are crucial in this process: they bring together different perspectives, experiences, cultures and know-how. We actively use our network primarily to connect and stay connected with the right people and to leverage their knowledge and skills for us. Likewise, we offer our expertise in our network to help at any time. I think we have built up a quite strong reputation as an open and reliable partner with whom others are happy to sit at the table. I am absolutely certain that those who are better networked are more innovative in the long term, have more success and can adapt more quickly to new circumstances. What's more , I personally enjoy my work more when I feel I'm part of a good network.
About EnBW
EnBW Innovation has been an integral part of EnBW's corporate strategy since mid-2014 and has since worked its way to the top of the German corporate innovation landscape. In partnership with committed founders, investors and employees, EnBW Innovation develops commercially successful business models in energy-related markets, but also in markets beyond these. With Incubation, Company Builder and EnBW New Ventures, EnBW Innovation is active in all innovation phases and supports young founders and mature start-ups as a competent and financially strong partner in their progress.
Website: www.enbw.com/innovation
About Jürgen Stein 
Jürgen Stein, Head of Innovation Management at EnBW Innovation, studied mechanical engineering at the University of Karlsruhe and has worked in various management positions in the energy and telecommunications industries, combined with several years abroad in China, Singapore and the USA. Until 2018, Jürgen Stein was CEO of Solarworld, responsible for the American business and for operations worldwide. Since 2020, Jürgen Stein has been head of innovation management at the energy company EnBW Energie Baden-Württemberg AG.