4 Questions to Kjer Dabelstein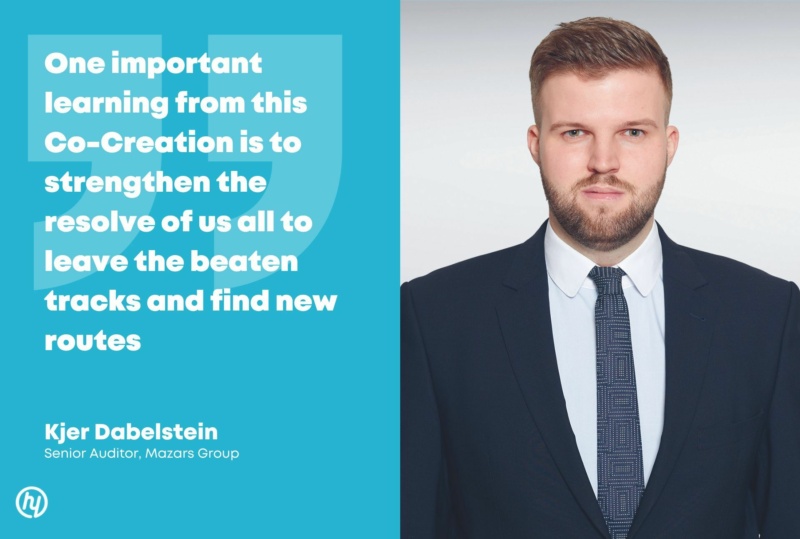 Since 2016, Kjer Dabelstein has been working for Mazars, an integrated partnership in the field of tax consulting, auditing and business consulting. From this spring onwards, Mazars is taking on a new challenge, a project that aims at nothing less than "reinventing audit". Today he is telling us about this innovation project and innovation milestones that Mazars has already achieved in the past. 
Hello Kjer, nice to have you here for the interview! You've been working at Mazars in Audit since 2016 and are now directly involved in building Mazars' new Innovation Unit. Can you share your vision with our readers and briefly outline what you want to achieve with the Inno Unit and which challenges you are dedicated to?
Hello, thank you for having me. When it comes to innovation at Mazars, the areas of tax consulting, auditing and management consulting collaborate across the board. The overarching goal is a more secure, higher-performance audit flow. Our strong urge for innovation and change stems from the fact that the amount of information we need to process around us is growing exponentially these days. At Mazars we need to get a hold of this sheer mass of information and process it into accurate audit reports. Since we don't want to just hire more people to tackle the growing workload, we want to introduce better, technological solutions instead. Mazars' Innovation Unit will work on homegrown, customized solutions with the goal of cutting redundant tasks and optimizing audit report accuracy. Additionally, it works on global solutions in the audit service line. 
We try not only to design solutions for German colleagues, but to develop scalable solutions that can be used in all 90 Mazars countries. For example, solutions for Business Intelligence (BI) tools on inventory valuation will be made available globally to include countries that do not have the resources for an innovation unit. 10 years from now, I am convinced that BI will guide most audit processes and enable absolute standardization, which is currently hampered by the variety of tools that clients use. 
In addition to the new innovation unit, Mazars has had an internal innovation project, the Accelerator, for a long time. There, employees can contribute their own ideas and take them through to implementation. Do you have any examples of business ideas that have emerged successfully from the Accelerator?
A key corporate promise of Mazars is to sustain innovative internal work. Living up to that promise, the Accelerator collected more than 250 business ideas related to audit and a high triple-digit number of ideas across the whole service line. The ideas range from future ESG checks to concrete audit tools. 
We are now in the 6th batch of the Accelerator and per batch, five ideas are being advanced. Hence, 30 solutions are either being pushed forward right now or are already completed. The implementation rate of these solutions lies at approximately 75%, which shows our desire to innovate and find new paths in the audit world. 
There is one tool we are particularly proud of: The AI Notes Auditor, which is a tool for automated notes auditing and has already been successfully launched. The 'Notes Auditor' was born, developed and launched together with Deep Neuron Lab (DNL), a specialist in AI-based software.
As you just mentioned, co-creation is also a topic that Mazars does not shy away from. You closely worked together with the DNL on the AI Notes Auditor. How did the project with DNL come about and how did Mazars get involved? 
In order to pick up everyone, I will briefly outline the idea behind the AI Notes Auditor. The notes are a supplementary document to the balance sheet of the income statement and a mandatory part of the annual financial statements. The idea for automation came about because there is little variance in the notes across all mandates. It can therefore be used perfectly for Machine Learning.  
When we started looking for potential partners for this project, an important criterion for Co-Creation was to find a flexible partner with a great understanding of our product idea. In addition, speed was in focus and product development became more important than the traditional approach to partner search. DNL was the right  match for us because their expertise in Machine Learning and our audit expertise complemented each other perfectly. 
In collaboration with DNL, the product features have continuously evolved in ways which would have become less flexible in contract work with larger corporations. We are very happy about the inspiring, collegial team work with DNL and even more happy about the successful outcome. Large companies rarely collaborate with startups in this way, but one important learning from this Co-Creation is to strengthen the resolve of us all to leave the beaten tracks and find new routes in cooperation with new partners.