4 Questions to Renate Krammer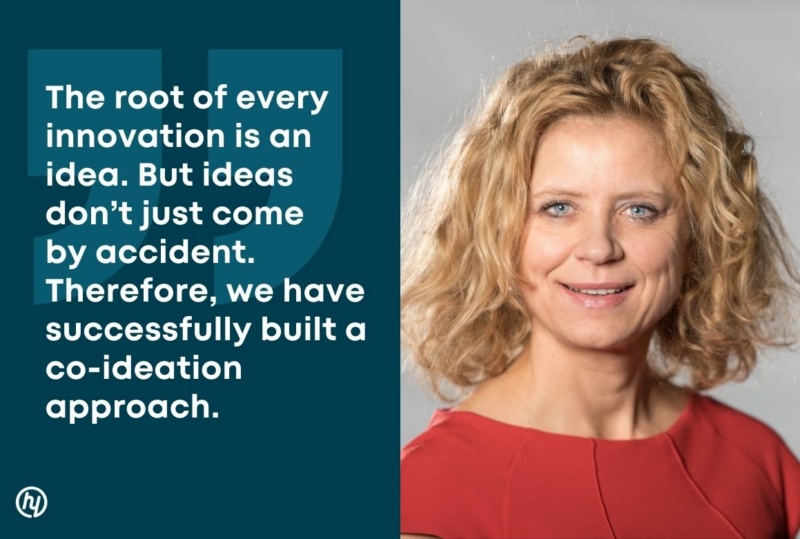 Renate Krammer is Head of Innovation at Uniper. We talked to her about corporate innovation and the corresponding challenges. 
Hi Renate, thanks for taking this interview! You are Head of Innovation at Uniper, and I have read that you are focusing on "Radar, Ideation, and Portfolio Management". What activities do you focus on and how are these activities interconnected with each other?
Our Radar team screens the external environment to identify trends. It is an early-warning system for future market dynamics while it also identifies opportunities. This enables Uniper to quickly gain strategic insights and to derive recommendations for actions related to the mid- and long-term strategy of Uniper.
The Radar is a go-to source across functions to get quick future technology and business model assessments. Besides ad-hoc requests, the Radar also provides focus topics to deliver in-depth data and recommendations for the future way of Uniper.
Radar insights are also the basis to generate new business ideas​.  
This is where ideation comes into the picture. The root of every innovation is an idea. But ideas don't just come by accident. Therefore, we have successfully built a co-ideation approach that serves as a catalyst for Uniper's transformation. Using agile and creative, state-of-the-art methods, we involve internal experts and external partners such as industrial customers, municipal utilities, start-ups, universities, and suppliers in the ideation process. In diversely arranged groups, new sustainable business models are created, elaborated, and further developed.
It is also very important to monitor & steer the innovation pipeline and to track innovation KPIs​. In our portfolio management we create transparency about our portfolio and derive recommendations for strategic portfolio steering ​to build the right innovation portfolio alongside our corporate strategy. ​
In the past, Uniper Innovation supported startups such as poligy that drive "sustainable solutions and promising technologies towards decarbonization". Based on which criteria do you decide to promote a project or a startup within Uniper's corporate context and mission?
It is beyond question that we as a society and as Uniper need to move from the fossil era toward a climate-neutral energy industry and world. This transformation challenge has to be solved in an increasingly complex and competitive market environment, characterized by, for example, converging ecosystems and unclear, long-term regulatory frameworks. Additional megatrends like digitalization and decentralization accelerate the challenging energy transition.  
To achieve the ambitious decarbonization goals of our strategy, we need to transform our existing business and create new green or sustainable growth opportunities. Our portfolio of ideas and projects is therefore geared towards innovation, economic efficiency and, last but not least, sustainability in order to not only decarbonize our business, but also to support our customers in their efforts to achieve net zero and beyond.
You are a board member of different initiatives such as the consortium Liquid Wind. Which company or initiative would you like to join or lead in the future in order to take it further? Feel free to think big. 🙂
I really do like your questions by the way.  
I think that one of the most important issues of today is solving the challenge of satisfying the ever-increasing energy demand in a clean way so that we can preserve a world worth living in.
I am proud to contribute to solving that challenge e.g. via being a board director of Liquid Wind. We need accessible alternatives to fossil fuels on a large scale, to reduce carbon emissions and to power a more sustainable future. Liquid Wind facilities will produce eMethanol, a liquid, carbon neutral fuel made from carbon dioxide and renewable electricity to meet the growing demand for fossil-free alternatives. 
Since I like to travel and I should think big, I would be very happy to contribute to realizing the dream of beaming people. That would be a big step towards a sustainable future solving many problems at once. So, beam me up, Scotty.
Multiple think tanks such as the Future Cleantech Architects think tank launch surveys to understand best practices on international R&D initiatives of climate technology. Which best practices would you identify when it comes to R&D initiatives at Uniper?
I think Future Cleantech Architects is a great initiative and I am honored that the founder Peter Schniering asked me to be there. And actually, this was one of the questions we discussed on a panel in cooperation with UN TEC.
Historically, most companies like Uniper didn't have an R&D role because it wasn't necessary. Even today we are not active in the narrower sense of the word in R&D. Most of the time we start talking to startups or other companies when the solution has a TRL of around 6 or 7. That means we come into the picture for proof of concept, piloting, commercialization, launch, deployment and scaling activities. So, I suspect that I'm not really an expert. But I think the lean and agile approach should be used wherever possible, i.e. testing MVPs and getting market and customer feedback early on. Cooperating with companies in R&D not only in industrialized but also in developing countries would be important, as companies in these countries could find better and more creative solutions due to limited resources.
About Uniper
Uniper is an international energy company with around 12,000 employees in more than 40 countries. The company plans to make its power generation CO2-neutral in Europe by 2035. Uniper is also a reliable partner for municipalities, public utilities, and industrial companies for developing and implementing innovative, CO2-reducing solutions on their way to decarbonizing their activities. As a pioneer in the field of hydrogen, Uniper is active worldwide along the entire value chain and is implementing projects to make hydrogen usable as a mainstay of energy supply.
About Renate Krammer
Renate Krammer is responsible for innovation management at Uniper since December 2019. By leading the Radar Team at Uniper new environmental trends can be analyzed to identify new opportunities within the organisation. Besides being a crucial part of Uniper's innovation management,  Ms Krammer is deeply involved as a board member of several initiatives such as Liquid Wind, and the Global CO2 Initiative. In her free time she enjoys Sci-Fi books and films as inspiration for her work. In addition, she likes to practice mindfulness and enjoys outdoor activities such as hiking in the mountains.