4 Questions to Christian Lindener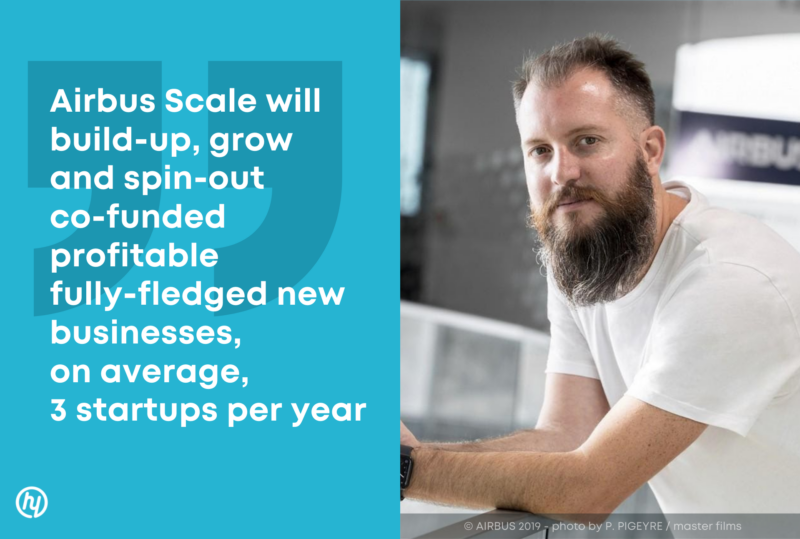 Christian ("Chris") Lindener is the Head of Airbus Scale, Airbus' innovation unit that brings together corporate innovation, company building  and startup engagement. In this capacity, Chris leads and drives the company's internal and external innovation activities.
Hi Chris, great to have you as our guest! In your current role as Global Head of Airbus Scale, you drive different corporate innovation activities such as company building and startup engagement. What are the main activities of your unit and where do you focus on the most?
Airbus Scale's main focus is on building companies at speed and scale to support the growth and recovery of Airbus. This is done by looking deep into the corporate innovation ecosystem, identifying  concepts and underutilized assets that Scale can vet against the company's growth strategy. If there is a match, Scale will deliver a business model and further develop it as viable products or services. From here, Airbus Scale will build-up, grow and spin-out co-funded profitable fully-fledged new businesses, on average, 3 startups per year.
In parallel, we will combine Airbus' corporate expertise with its ability to identify startups that have relevant technology for our future zero emissions ambition. By partnering with those later stage startups, Airbus Scale will create mutually-beneficial collaborations to advance high impact projects. We anticipate that about 20 startups a year are being put into business relations with Airbus.
Over the course of the last years, several aerospace startups came to life in your innovation unit. What are the biggest challenges of startups that are founded in support of a corporate innovation unit in terms of restrictions? And who is your most stellar success case?
Indeed, BizLab was a successful part of the Airbus innovation ecosystem for more than 5 years. Since starting in 2015, Airbus BizLab has accelerated over 90 startups, nearly 70 internal projects, and 7 spin-outs for a combined value of approximately 100 million Euro.
The big success stories from each of our accelerators would certainly be:
Airbus Scale builds on these successes and many more, while it also uses the intelligence gained from this experience to strengthen its innovation setup for a more performant ecosystem. 
The biggest challenge we encountered with BizLab when working with startups was the internal Airbus corporate structure. To overcome this, Airbus Scale has autonomous procurement and legal processes to ensure it can match the speed of a startup. It is also self-financed and structured for outside capital and revenue generation.
With four different locations, Airbus BizLab allowed an international approach to innovation acceleration initiatives. What are the main advantages when it comes to different locations for innovation units?
Airbus Bizlab was only one part of the Airbus innovation ecosystem, which had a global network of accelerators across Europe and India. Although the physical sites were closed down, the resources were integrated into the new Airbus Scale setup. By the very nature of Airbus' global footprint, innovation teams are based on Airbus sites worldwide. Airbus Scale will continue to leverage Airbus innovation teams in Europe and elsewhere with particular hotspots including China, Singapore, Russia and the US. For us it is a must to have one foot in each of the tech ecosystems to ensure that meaningful connections are made.
Next to your function as Head of Airbus Scale, you are a board member and co-founder of several independent ventures (e.g. D3 Technologies Lab). How do you combine your role as entrepreneur and head of a corporate innovation unit?
Entrepreneurs are driven by curiosity and opportunity so naturally we maintain a strong network of fellow individuals who share these same values. Yet it is rare to find people that can navigate both the startup world and the corporate world. Having spent most of my professional life working for or with startups it was an interesting move to come and work for a big corporation like Airbus.  The past 3 years have been an enriching experience, but I also wanted to ensure I kept an active role in the startup world, and by maintaining my position on a number of different boards, I found this to be an ideal way of meeting this objective. I feel very privileged to be mandated to navigate internally and externally with a high degree of freedom, the nature of innovation.