4 Questions to Phil Jenke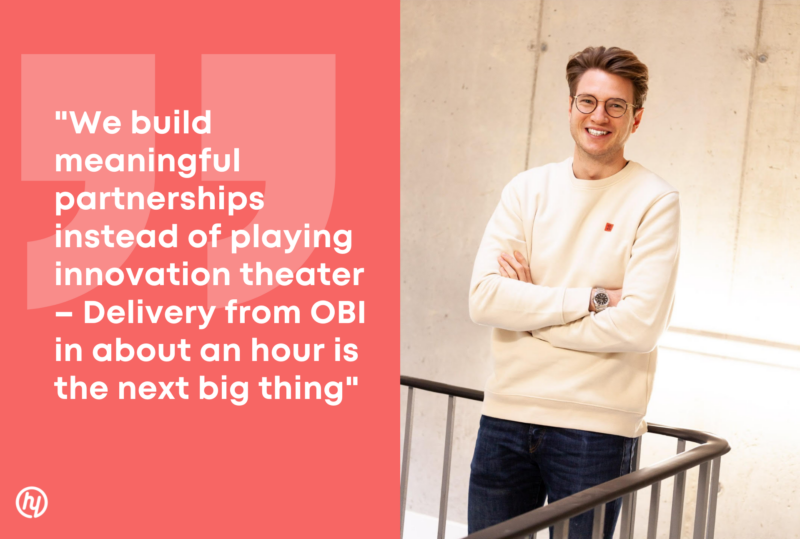 Phil Jenke is the Venture Lead at OBI SQUARED and within his position, drives the future of Germany's number one DIY retailer OBI. We talked about the structure of the innovation unit OBI SQUARED and their plans for the near future.
Hi Phil, great to have you as our guest today! Could you please give us some insights into your role as Venture Lead at OBI SQUARED? What are your main responsibilities within the unit?
OBI is the German number one retailer when it comes to home and garden improvement products, generating over € 7.7bn in revenue. OBI SQUARED is the related innovation unit defining OBI's business activities from 2030 onwards. At OBI SQUARED, we try to come up and implement "out of the box" new business models. We constantly explore new opportunities and translate them into pilot concepts. 
OBI SQUARED comprises three different sub-units: venture building, venture growth and venture clienting (with a potential venture capital unit): In venture building, we set up our own business models from scratch, for instance we've recently created a new and sustainable color named "Redrop". The brand is positioned next to OBI's core business, however the end-customer cannot tell that it was created by OBI.Currently we're also setting up the Unit for venture growth, which aims at scaling our existing businesses. 
I am responsible for the venture clienting Unit of OBI SQUARED, which focuses on startup partnerships and corporations. We follow the outside-in process of innovation, contrastingly to the inside-out approach of venture building. Within venture clienting we try to enhance OBI's value chain through the integration of single startup products, while at the same time we collaborate with suitable startups on a more comprehensive level. Our first pilot project is "kurts X OBI", which enables a new customer experience in the renting market for tools. With the potential venture capital Unit we will focus on investments into young startups operating in areas near our value chain and having the potential to disrupt it. 
Taking a deeper dive into the field of venture clienting: What would you say are typical use cases in your focus area and what kind of startups are you searching for? 
In total, we have nine application areas: E-commerce, home improvement, gardening, sustainability, logistics & supply chain, manufacturing, DIY, connected commerce and customer engagement. With the classical venture clienting approach, we observe the entire value chain of OBI and figure out how to innovate the organization's core through startup power. We further establish new business solutions, such as "kurts X OBI" in the renting market, while in the future we also want to drive insurance, banking, and last-mile delivery cases. For 2022, we aim to explore about ten different cases and thus to clearly differentiate us from our competitors.
When searching for potential startup corporations, we primarily look for companies that can either improve OBI's business functions at their core or complement and expand our offering in a meaningful way. Startups believing they may offer us a suitable solution can directly contact me or reach out via our website http://squared.obi.de/venture/.
Following the deep insights from your work at OBI SQUARED: Which trends do you see in the DIY market in the next few years and are there some role models OBI follows?
Taking the financial service industry as an example, banks were the pioneers paving the way for others, such as insurers. Latter had to only follow the developments and established processes. Same is happening right now in grocery delivery with new players such as Getir, Gorillas or Flink. These pioneers are quickly followed by food incumbents such as Rewe or Lidl offering fast food delivery services. Even though OBI as a DIY retailer may have more products in-store and not as many decentralized warehouses as Getir or other players, we can directly hop on the recent developments. Within the DIY sector, we do not have any direct role models, because I would say OBI is the leading example here. However, looking at the retail market in general, we can definitely learn from other big players how to improve our business operations. 
As you've mentioned before, OBI as a DIY retailer is constantly improving its business model and overall offering. Can end customers expect a new form of quick delivery for screws, paint, brushes, etc. in the near future?
Yes, definitely! Within the next two to three months, we will be the first mover in this space by implementing new, quick delivery solutions. For the first time ever, customers will soon get their DIY products delivered within a timeframe of 45 minutes to two hours. However, it is not our aspiration to deliver items within 10 minutes like a quick-delivery food retailer. Due to our centralized warehouses, we have to calculate a time premium and thus, we aim at providing an as-fast-as-possible delivery service for our customers. Latter is meant to be faster than buying items oneself in-store.