4 Questions to Uwe Günzel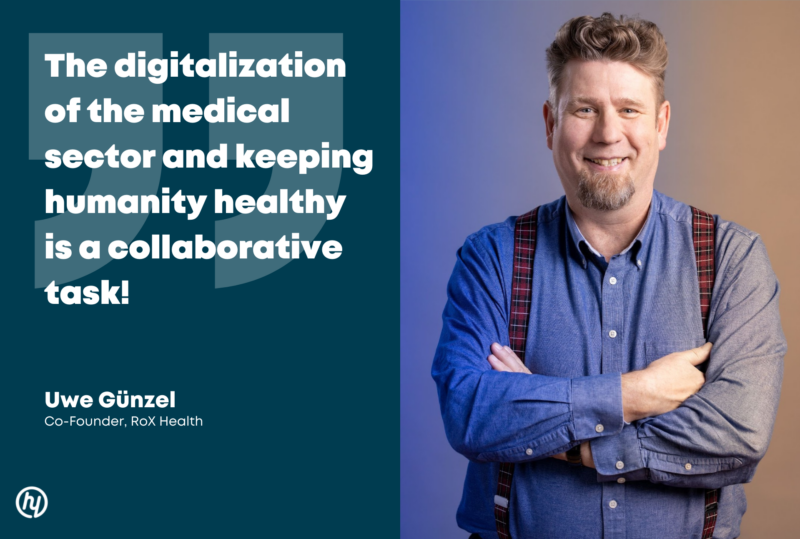 Uwe Günzel has worked in innovation for the pharmaceutical industry for many years before co-founding RoX Health in early 2020. RoX Health is a Berlin-based startup studio and subsidiary of Roche Germany. It focuses predominantly on digital health and seeks to drive innovation in the healthcare sector.
Hi Uwe, great to have you as our guest today! According to your motto "You never know how far you'll make it until you try!" you co-founded RoX Health in 2020 together with four other colleagues. After years of working in pharma, what motivated you to start this new business and what is your mission at RoX?
The motivation to co-found RoX Health has accompanied me for a long time as I've always been an "entrepreneur within the company". After working for Roche for many years I developed a concrete connection to this innovative start-up project. From my daily experience I knew that Roche builds great solutions for patients and doctors. However, I was missing the empowerment of the patient as a core element. The question which drives me is how people actually stay healthy and which warning signals there are, before they become sick. However, I noticed that at the time there was no revolutionary business model for the pharmaceutical industry, which could have been directly transferred to Roche. I took this as a starting point to co-found RoX Health in 2020. We try to identify new innovative approaches in pharma and diagnostics to put the patient in the focus and change the healthcare system for the better, for instance through new digital platforms. 
RoX focuses primarily on oncology, neurodegenerative diseases, and women's health. In addition to spin-offs, you also partner a lot with other startups. How do you use partnering as a vehicle to drive innovation in healthcare and who is your latest partner?
When starting RoX two years ago, I first realized how much innovation there actually was outside of Roche and I was wondering, why we weren't using it more effectively. At RoX we want to change this circumstance as we are convinced that partnering with startups, co-creation, and co-operation adds tremendous value. Accordingly, we work collaboratively on new ideas that really make a difference within the healthcare system. Conclusively, we at RoX are driving innovation by taking a step aside from Roche's core business at first, to then slowly moving closer together with innovative solutions in hand, uniting both worlds.
Our latest partner is the startup "Xund", which operates a holistic symptom checker platform for patients. It provides the perfect link between patients seeking help and institutions providing help. We find it important to really offer agile and fast solutions, effective for the patient. Xund is a good example for combining systematic risk assessment with the doctor's diagnosis. 
Based on your experience, which trends do you see for the healthcare sector in the future and will they revolutionize the way we live?
The mindset within the healthcare industry is increasingly changing from patients solely being treated to a point where people should not get sick in the first place. In addition, instead of the doctor being in the focus it is the patient with all his needs that receives most attention. This changes the whole setup, not only since the digitalization in healthcare came into play. Through biosensors, data tracking and sharing, as well as through other digital tools it became much easier to understand a person's health condition.  Furthermore, we are increasingly living in a connected world of open ecosystems – this will accelerate innovation. 
You are also involved in innovation and entrepreneurship activities in your private life. In which networks do you take part and do you have any network recommendations or other tips for prospective founders in the healthcare sector?
I mostly use LinkedIn for networking purposes as I can reach a lot of people worldwide. It is great for building up initial contacts with startup founders, politicians, and decision-makers. Nevertheless, I am also active in local networks, especially in the "BioPro Baden Württemberg". It is "the network of networks' ', including accelerators, company builders, and joint research initiatives in the field of pharmaceuticals and diagnostics. The network is an essential tool for prospective founders. 
In the past, I have observed that founders usually work on their idea silently for a long time without others participating. However, it is essential to get the right partners on board early on to make the idea a long term success. Another important aspect is the setup of an effective distribution at the beginning. This is oftentimes underestimated and can hinder a business from scaling. Finally, I would like to provide an important message to all founders within the healthcare sector: The digitalization of the medical sector and keeping humanity healthy is a collaborative task! We should not be driven by competition in this area, but work together instead. Only collaboration will enable us to have a truly positive impact on the health of the population. If you thrive in such a collaborative surrounding, you're always welcome at RoX and may contact me any time to revolutionize the healthcare industry together!