Travel Restart – Is the travel industry fit for the future?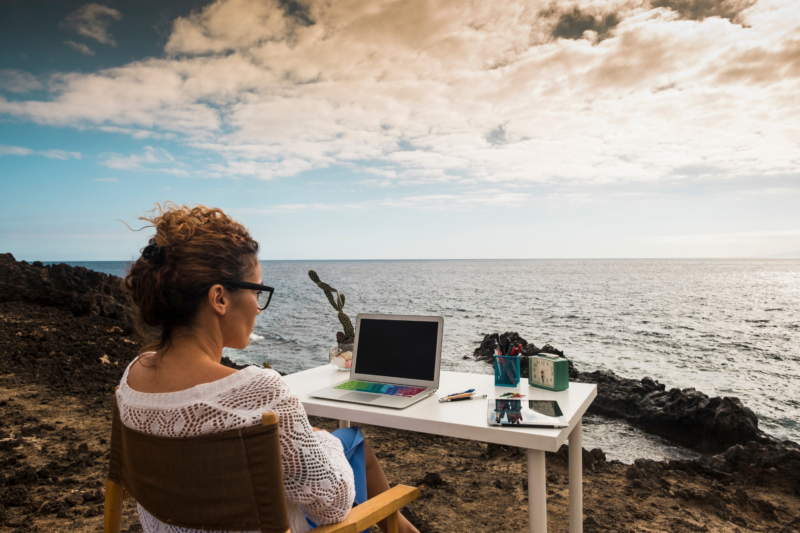 04.04.2022 – An article by Lennart Voss
The hotel and travel industry was hit hard by the Corona pandemic. While the industry is slowly recovering from the losses of recent years – amplified by Revenge Travel – there are nonetheless lasting changes in consumer behavior that have been accelerated by the pandemic. Presumably, hotels and travel companies will need to take action to adjust their current service offerings and return to pre-Corona revenue and booking levels. This is an important step, as the pandemic and new technical capabilities caused fundamental changes in consumer behavior expectations. 
The pandemic has hit the hotel and travel industry hard
Over the past two years, our lives have been severely restricted. Not only has travel been prohibited at times, but many people have felt safer not to travel. International tourist arrivals in Europe have dropped by about 68% from 2019 to 2020, and global business travel spending has dropped by over 60%. Although most Germans got to know their own country better and spent their vacations at the Baltic & North Sea, as well as in the mountains, demand in the hotel industry in Germany dropped by 83% (Statista).
With increasingly relaxed restrictions, travelers are catching up on the last 2 years
Many people have felt a deep wanderlust since the pandemic began. In a study by Booking.com, 66% of respondents said they were looking forward to traveling even more, as it had been almost impossible in recent years (Booking.com). This goes hand in hand with the phenomenon of Revenge Travel where people want to go on trips especially out of 'spite' now that it's possible again. 
Additionally, the GTBA (Global Business Travel Association) expects  business travel spending to rebound to 2019 levels by 2024 (Source).
Consumer behavior is changing – faster than expected
Still, there are lasting developments in consumer behavior. The origins and initial movements in customer expectations existed before the pandemic, but Corona and its accompanying changes have acted as an accelerator. Companies were forced to rethink their work models and introduce home office or remote work arrangements. The result was clear in many places: remote work is working and thus offers many opportunities for employees, such as taking a workation. In addition, mental health awareness has become more central and has led people to focus more on relaxation and deceleration. Further, the frequently changing travel regulations and skepticism about standards in health infrastructure have changed the view on travel.
These short-term stimuli, along with trends that have been already developing for some time, have led us to expect lasting changes in travel behavior. Summarized in a meta-analysis, we can crystalize four core themes: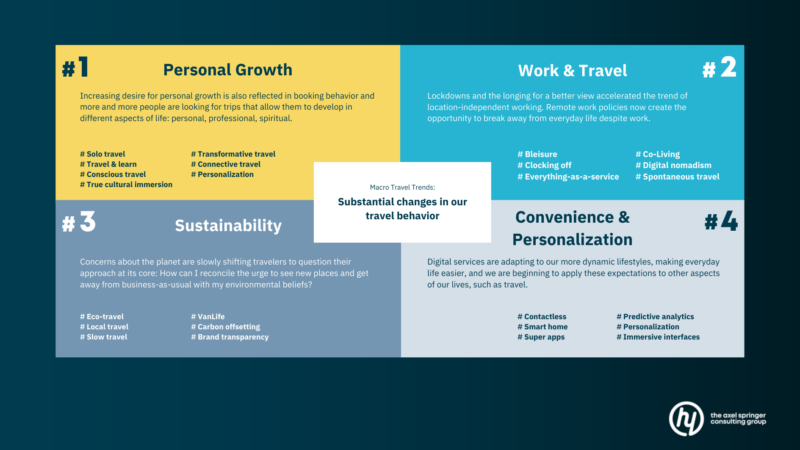 Deep Dive Trends
Personal Growth
Not just since the pandemic, so-called "mindfulness" has become popular and is actively practiced in age groups of Gen X, Millennials and younger. With the rising popularity of yoga and meditation as a catalyst, the desire for personal growth, expansion of horizons and generally new experiences – often outside of one's own comfort zone – has also grown recently. This shift is also carrying over into travel. Increasingly, leisure activities and travel are being combined with the opportunity to develop in different aspects of life. 
This not only offers opportunities for emerging startups to bring forth the right apps and services, but also for the travel & hospitality industry to be able to create offers that are tailored to their target groups. Travel company FTLO Travel, for example, launched the SOJRN brand last year, offering one-month, 'all-inclusive study abroad programs for the modern workforce'.
Work & Travel
More and more people are working in a wide variety of places around the world, without a permanent home base. This phenomenon of "digital nomads" already existed before the pandemic. Back then, this trend was still firmly linked to the gig economy and reserved for people who dared to be self-employed.
Now, lockdowns and the desire for a better view have accelerated this trend and driven it into the minds of the employed population as well. As companies offer remote work models, the trend could continue post-pandemic. According to a study by McKinsey, even after the pandemic, over 70% of respondents would like to work remotely for at least 2 days. This is also reflected in the views and travel plans of Germans: 49% of Germans surveyed would like to work from another location occasionally (Bleisure Traveller). 
Of course, this trend plays into the cards of already established players, such as Soho House. Even though the exclusive club lost just under 10% of its 114,000 members in 2020, it already had 30,000 new applicants for membership again in the summer of 2021 (Tagesschau). But a look at the startup landscape also shows that an increasing number of offerings are being created to address this shift in consumer behavior. Ukio, for example, is creating a new counter-offer to the traditional real estate market by putting stylishly furnished apartments for a month or longer on the map. The Barcelona-based startup raised a total of $9 million in venture capital to expand their portfolio in markets outside of Spain and Portugal.
Sustainability
There is no denying of the growing awareness concerning the impact of our consumer behavior on the environment. With the knowledge of travel's environmental harmfulness, there is an increased transfer from consumption to travel. This mindshift is not only reflected in the willingness to offset emissions, but also in questioning the approach at its core. 37% of respondents to a 2020 BCG survey said they want to travel more sustainably in the future (BCG). This raises a conflict: How can I balance the urge to see new places and get away from the business-as-usual with my environmental beliefs? While closer travel destinations have gained traction in recent years (Institut für Zukunftsfragen), Revenge Travel will likely push our emissions back up. Despite this, the sustainability movement will continue to gain ground and influence not only 'where we travel to' but also 'how we travel'. 
A look at the changing offerings in this segment also provides insight into the changing focus. For example, London-based startup Byway, which offers flight-free travel for the slow traveler, raised venture capital of more than $1.4 million.

Convenience & Personalization
By now, digital solutions in many of our aspects of life satisfy our need for convenience and simplicity as well as inspire us with tailored content and offers. Offering the right services and delivering seamless, digitally-enabled experiences currently still promises an unfair advantage over other companies, but is increasingly becoming a must-have. Industry experts also believe this: A survey of hotel managers found that 69% believe the introduction of new technologies will improve their ability to increase profitability (Shiji). Despite this, fewer and fewer travel-related companies are on BCG's list of the 50 most innovative companies, according to an analysis by the Lufthansa Innovation Hub. While there were 12%, or 6 companies, in 2016, only Airbus was represented in 2020 (TNMT).
However, examples from the industry show what is possible when digital solutions are integrated along the travel journey. AirAsia's SuperApp, for example, meets the convenience needs of travelers by not only allowing them to book flights and hotels, but also integrating services such as meal delivery, e-commerce, logistics, ride-hailing, and a digital wallet into a single touchpoint for the user.
So what?
A look at the above-mentioned trends shows that companies will have to find answers to growing changes in travel behavior in the medium to long-term. Which impact these will have specifically on the various companies in the travel and hotel industry needs to be analyzed in more detail. Overarchingly, it can be said that the reasons for traveling are becoming more variable and aspects such as accommodation and means of transport are being evaluated more frequently with the inclusion of various factors, such as sustainability or the trip's purpose. That leads to a variety of opportunities that can be derived from the numerous trends. Obviously, the relevance and implementation of these opportunities must be subjected to a more in-depth analysis. In general, it can be stated that even before the classic 'build, buy or partner' evaluation, the relationship of the business opportunity to one's own core business should be examined. Here, a general distinction can be made between within the core business, adjacent to the core business and diversified into new areas.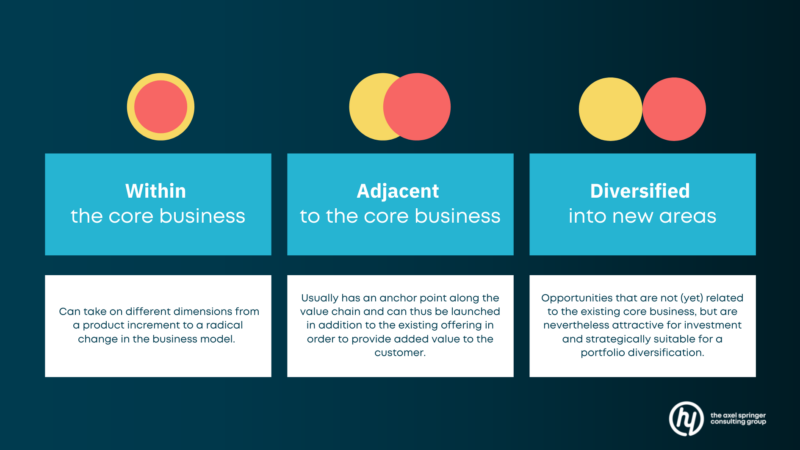 A decision on the right approach should always begin with an analysis of the company's own customer segments.
What changes in the behavior of existing customers can be observed?
Do these already have a quantifiable impact on our business?
Getting an understanding of what needs and wishes existing and potential customers have and whether these lead to other offers being preferred should be a regular task for companies. From there, first potential needs for action can be derived, which can then be specified and validated/falsified with low-risk experiments.
Of course developing a new business opportunity does not happen without challenges. Nevertheless, there is great potential in recognizing changing travel needs and acting accordingly. The important thing is to get started and have an experienced team iteratively testing hypotheses regarding desirability, feasibility and viability – and if you don't know where or how to start, just get in touch with us. We'll be happy to put your idea to the test or identify and validate potential topics with you.
To learn more about our thoughts on potentials in the industry, feel free to download our teaser and get in touch.
To learn more about our thoughts on potential in the industry, feel free to download our teaser and reach out to Lennart via direct message on LinkedIn.