3 questions to Susanne Hahn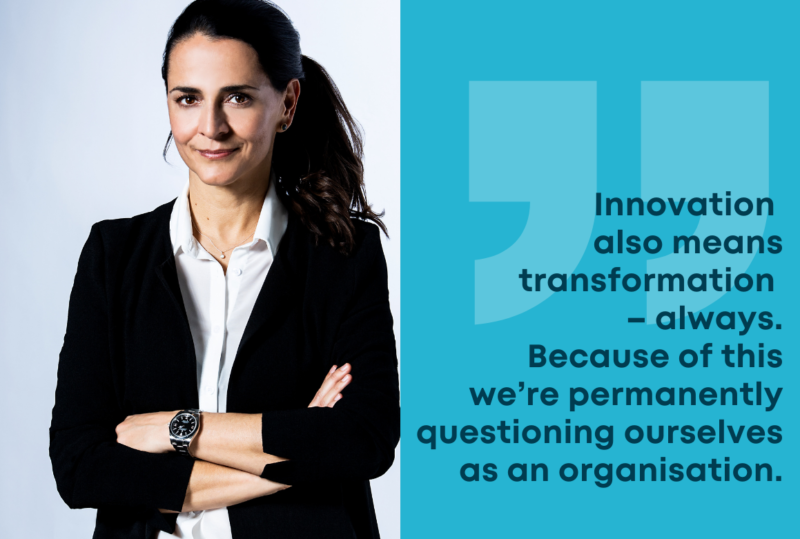 Susanne Hahn is Managing Director of 1886Ventures. We talked to her about the reorientation of the former Daimler Lab 1886.
In December 2020 the news came out that Daimler's Lab1886 would be continuing in the future as the open innovation platform 1886Ventures. Who did the impulse for this come from and what were the motivations behind this new direction?
At the end of 2019, I was discussing with Daimler and the board of Mercedes Benz how to further develop our global innovation unit Lab1886, as well as possible next steps in the direction of commercialising the incubation projects.
We were at an inflection point with these topics.  We could transform great ideas into reality with many departments and partners and also derive products from those ideas, with the IP as the main assets. We have ve been looking intensively at the upcoming commercialisation phase. It's all about putting in place the right environment to be able to react swiftly and flexibly to each market situation, to sort out cooperation and partnerships quickly and easily and to focus on the newly emerging core business. We know from experience that a simple handover of topics in Daimler's internal areas of expertise leads to a drastic weakening of innovation and above all iteration strength. The conditions and framework for profitable, flexible growth aren't ideal for these new themes because the corporate structures focus on is geared towards existing business, not on venture building and certainly not for securing the relevant market shares of these new ventures.
Proprietary areas in the innovation and digital field with a focus on new business also come up against – at the latest during the commercialising phase – the limits of how to realise them in a competitive way. To ensure this, at 1886Ventures we've created all the necessary preconditions. To be competitive, decisions must be made at high speed – tedious decision-making procedures or discussions about which guidelines might be violated are counterproductive.
Innovation also means transformation – always. And because of this we're always permanently questioning ourselves as an organisation. If we hadn't done that, then we wouldn't have been as successful over the last 14 years. With our previous transformation from an idea hub to Lab1886, we've built up, out of the consummate ideas hub that is Business Innovation, a global and digital innovation factory which has fashioned up to 25 projects in parallel together with the Group's specialist departments. The "TOP 10" projects can be established seamlessly, rapidly and flexibly in the new technology holding company 1886Ventures. The staff are involved in the success of the enterprises – which, by the way, is also a key prerequisite for acquiring investment from external parties.
With our partner Mercedes Benz, we have a mainstay in a top German industry, our new partner GFT Technologies, a software firm from Stuttgart operating on the international stage, supplies us with IT systems and digital know-how that are indispensable for us, and our strategic partner, Ulrich Dietz, inspires us anew every day with his entrepreneurial mindset. The feedback we're getting from our meetings with investors, clients, partners and the press is also highlighting for us that we're on the right path.
And what makes me proud is the glowing enthusiasm and the total motivation to succeed of our 1886Ventures colleagues. It's quite simply an unbeatably good team and it's really fun to be in an environment like this.
Your (new) website describes you as a "co-innovator", "venture builder" and "not just another consultancy". Who is the 1886Ventures suite of services geared towards, and what makes you unique compared to other offerings that might superficially look similar?
Our collaboration offer is primarily directed at middle-sized and large businesses in the industrial sector. Because it's in this environment where we've also gained our expertise. Or, as we like to say: from industry, for the industry. We have a really deep understanding of organisational psychology and the thinking patterns of these kinds of industrial enterprise, we're familiar with the potentials but also the hurdles for putting into practice new business models together. A proposal that comes from us could be, for example, that we completely move our partners' areas of innovation across to 1886Ventures so that in the future we can collaborate even more closely and efficiently. There are a staggering number of queries about this. We approach our clients individually and look together at where we are at the moment and in which areas we can carry out innovative practices even more effectively and successfully. Our focus here is on sustained partnerships and generating a win-win situation.
That underlines our goal, in contrast to the traditional business advice model, of arranging partnerships that are as long-term as possible so as to be successful together. Success for our partners means success for us as well.
Another difference is that at 1886Ventures we have our own portfolio of projects and ventures. This involves themes like, for instance, automated – in other words, driverless – lorries, fuel cell technology or smart data connections for vehicles. In our portfolio, we've got nine new projects and business partners in total. Here we're also thinking about achieving cooperation that cuts across branches in the industry environment. Because we believe that the biggest issues around the technology and innovation of the future will have a greater chance of success when they come together. That strengthens Germany as a location and shows what's possible here if issues are addressed together. So that's why our December press release was titled "The Daimler innovation foundry Lab1886 is set to become the open innovation platform 1886Ventures."
What news or press release about 1886Ventures would you like to be reading in three years' time?
Phew, that's a tough one. More important than the press release for me would be for our mission to be brought a significant step closer and for us to have built up a proper holding company from the embryonic one we have now. Our mission is: "We unleash the potential of next technologies to build outstanding data-based ventures that create value for our industry partners." If over the next three years we've demonstrated this time and again, then we can all be proud. For us, that also includes being able to put in place different kinds of exit strategy or monetising by selling shares. But we're first of all developing the business very conservatively so that we can build up, in a realistic way, novel and sustainable companies. That's what we're working for every day, with a team of highly motivated experts, really hard.
About 1866Ventures
1886Ventures – The Next Technology Venture Group – emerged in 2020 from Lab1886, the innovation division of Mercedes Benz and the Daimler Group. It has set itself the task, with the help of future technologies in the fields of artificial intelligence, full cells, logistics or transportation of the future, of developing new, data-based business models and to establish companies in the industrial context. 1886Ventures concentrates on cooperation that cuts across different sectors in industry. The portfolio currently includes nine projects and spin-offs. The shareholders of 1886Ventures are the Daimler Group, GFT Technologies and RB_Capital.
About Susanne Hahn
Susanne Hahn was born in 1976 in Esslingen am Neckar. In January 2001 she joined the Daimler company as part of its future leaders management programme. Her positions within Daimler took her through the most diverse divisions in the automobile value-added chain. She carried out a wide range of management functions in domains related to development, production and supply chains. Serving as an assistant on the Daimler management board, Ms Hahn was for eight years in charge of "TOP Management" functions across the firm. Among other duties, she was responsible for the global organisation of the companies in the Daimler Group, and after this, she transformed Daimler's business innovation division into Lab1886. After a further transformation of the division, in December 2020 she moved to the newly founded technology holding company 1886Ventures as managing partner.
For three years until December 2020 she represented Daimler on the advisory board of Volocopter GmbH, and since January 2021 she has been on the advisory board of KÜSTER Automotive GmbH.