Promoting technology to enhance the European economy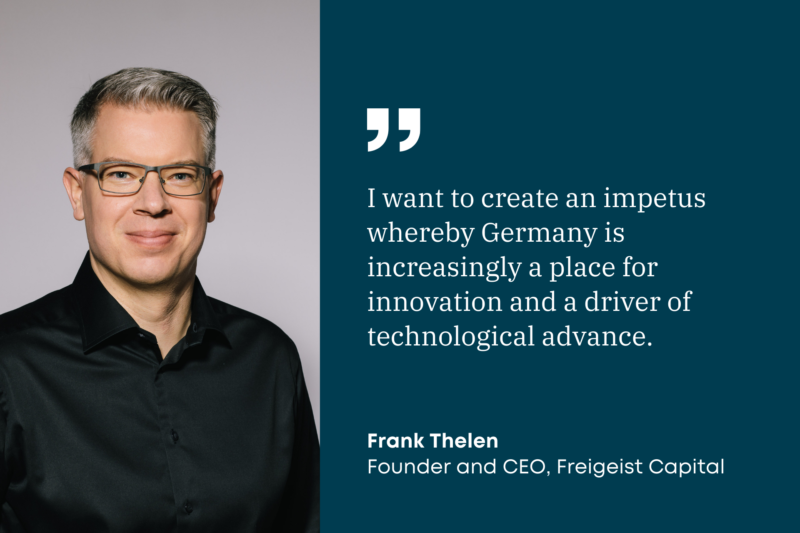 What do you want to move in 2021?
For the biggest goal I've set myself, I need a timespan of at least ten years. I'd like to build up my investment company Freigeist over the next decade from a European technology firm to nothing less than a global market leader in its field. In this way I want above all to strengthen our European economy and help to create an enterprise that can serve as a model for a host of other innovative companies. Because I'm convinced that we in Germany are lacking examples like Elon Musk and success stories like Tesla.
For me, 2021 means further concentrating and focusing on working with our Freigeist portfolio of companies and hopefully to reach that milestone and others. With my books, LinkedIn articles and presentations, I'd like to motivate more people to drive forward innovation and to actively shape our future. It's my heartfelt aim to take away the fear of the changes that lie ahead and to shed light on the technological developments that are influencing our lives in far-reaching and profound ways. I want to create an impetus whereby Germany is increasingly a place for innovation and a driver of technological advance. My hope is that I can get a lot of people in 2021 excited about themes around technology and the future, and that I can get to know loads of amazing company founders who have the potential to collaborate in actively shaping our future. And I hope I'm able to help them with my expertise, capital, passion and, not least, with the Freigeist team.
Prospects 2021
Connecting disruptive technologies with the best brains
Reducing CO2 emissions
Better transportation solutions for the future