Investing in a better future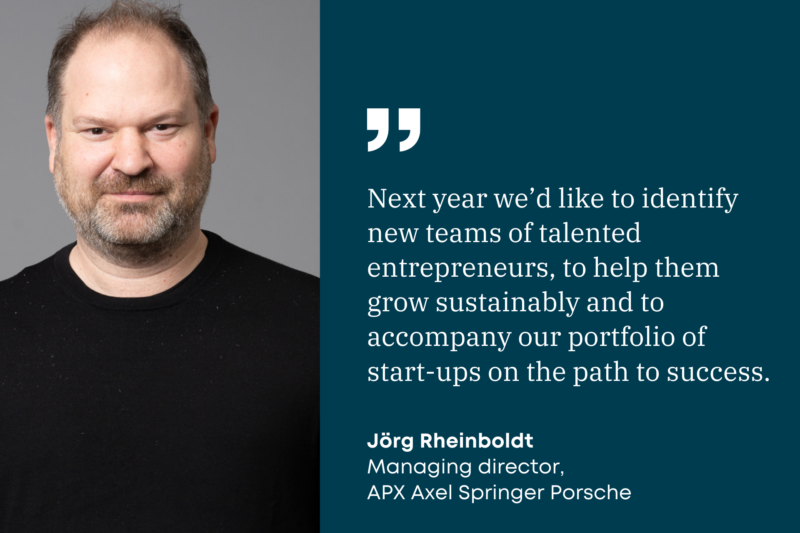 What do you want to move in 2021?
We're an early-phase investor and have invested in more than seventy digital start-ups over the last two and a half years. In 2021 we're looking to build up our investment activities further.
In practice, that means for us that we're expanding and adapting what we provide for our companies, to gain an ever better sense of the individual needs of entrepreneurial teams and to support them the best way we can.
Alongside this, we're looking forward to getting to know ambitious founders from all over Europe as well as from Israel, to invest in them and be a part of their journey. I'm also hoping that we can build and develop more bridges between start-up hubs in Europe and in the US.
We work as a company in a totally climate-neutral way – we see that as our responsibility, to contribute to protecting the climate. Because of this, next year we're integrating the UN's Sustainable Development Goals more in our investment procedures. This will hopefully lead to us also investing in sustainable companies in future.
We're currently investing in new "fast-track formats" for start-ups from our portfolio, which we'd like to set up next year with successful results for both our firms and ourselves. We're working hard at the moment on our own in-house "tech stack" – our platform – which will be made available to our portfolio of companies, to ourselves and in parts also to interested start-ups. With this tool we'll be making knowledge, expertise and networks more easily accessible.
All these instruments should count towards our overarching goal: next year we'd like to identify new teams of talented entrepreneurial founders, to help them grow sustainably and to accompany our portfolio of start-ups on the path to success.
Prospects 2021
Virtualisation and further reinvention of work
A genuine meeting of minds in the right context
Europe!