3 Questions to Robin Nehring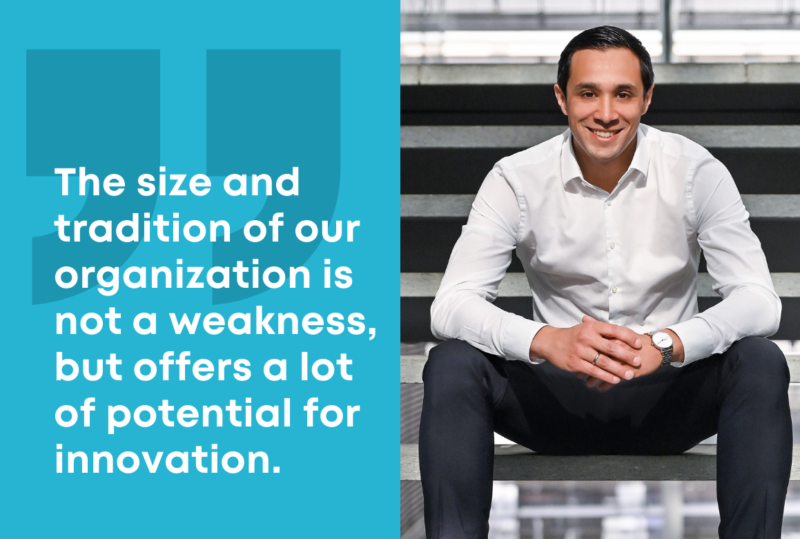 Robin is Head of Corporate Development at Stadtsparkasse Düsseldorf, one of Germany's largest savings banks. Together with his team, he develops strategies and action plans to make the company fit for the future. This covers the central bundling of innovation and digitalization activities as well as transformation management. In addition, he and his team are engaged in various central projects of the holding organization, the "Deutschen Sparkassen- und Giroverband" (DSGV).
In your opinion, what's the best approach to bring innovation and disruptive new ideas into such a large and traditional organization such as the Sparkassen-Finanzgruppe?
This question is not so easy to answer in a general manner. It depends on the topic that has to be implemented in the group. The Sparkassen-Finanzgruppe, with its 520 subsidiaries, is basically decentralised and organised via our holding organisation "Deutschen Sparkassen- und Giroverband" and their regional associations.
To establish innovations within the "Sparkassen", our employees have to be courageous, try new things and define a topic on their own which they want to push forward for themselves and the group. For example, Stadtsparkasse Düsseldorf has focused on SME banking and GenZ subsequently launched formats such as the Open Innovation Challenge under the hashtag #buildyourbank (www.sskduesseldorf.de/challenge).
After a successful Proof of Concept in one "Sparkasse", it is quite easier to integrate the topic in other saving banks as well. In my opinion, the size and tradition of the organization is not a weakness but offers a lot of potential for innovation.
We enjoy a high level of trust among our customers and we are also the first contact point for many things outside the traditional financial services. So when we launch new products or services, they are usually well accepted. Apple Pay is a good example of this.
However, to bring as many banks in the organization along on this path as possible, general standards and orientation guidelines must be in place. We develop these aspects through central projects. For instance, we have developed guidelines that are intended to help the "Sparkassen" align themselves towards digitalization.  
Overall, there are three key success factors:
The only way we can benefit from our collective intelligence is that our employees exploit their own innovative power and be courageous.

Certain topics should be developed and advanced centrally, but with knowledge and the involvement of our decentralized "Sparkassen".

It is necessary to take the whole group along on this journey to realize the full innovation potential.
Furthermore, we actively engage ourselves in cooperations with young, innovative start-ups to achieve added value in the value chain of our private- and corporate customers, but also for ourselves. To achieve this goal, we have strategic investments in the two venture capital funds Capnamic Ventures and neoteq Ventures and actively track the deal flow to pick up on relevant business models and technologies at an early stage.

Since May 2021, you are the Head of Corporate Development for the Stadtsparkasse Düsseldorf. What
hot topics will you push in the next months?
Corona has also led us to increasingly focus our activities on digitalization and innovation, thereby accelerating the transformation of the Organization.
Over the next few months, we will be working intensively on the topic of GenZ. Last year, we have already addressed this target group with the Open Innovation Challenge #buildyourbank and involved them in the idea process. The next step is to develop and implement a holistic concept from the results. We see that GenZ has very heterogeneous needs and expectations where we would like to put our focus. We have already successfully launched some initiatives here and, for example, built up a TikTok channel with about 140,000 followers and over 3 million likes within the last 6 months.
In addition, we have introduced agile working methods along the transformation path of our organization, we are working intensively on the digitalization of our corporate banking business, developing data-driven business models and expanding our customer approaches, in line with our omnichannel strategy, along all relevant channels.
Together with Patrick Fritz, you launched your own Podcast "Plaudertaschen" one year ago. You are talking about topics such as New Business Models, Innovations, Digitalization, FinTechs, New Work and Disruption in Banking with your guests. What was your personal highlight from the podcasts you have recorded so far?
Well, since last year, Patrick Fritz and I have been hosts of the "Plaudertaschen" podcast, which is all about the future of banking, innovation, technology and new forms of work. A quick overview: We have 36 published episodes, spoke with 40 guests, have almost 55,000 plays and are regularly in the top 50 of the podcast charts in the business category. These are figures that make us very proud, of course, and also show that the area is of great relevance and meets great interest among our listeners. The financial sector is changing, and I have to say that the topics we discuss with our guests are very diverse. From OKRs as a management method to data analytics and artificial intelligence in banks and savings banks to new forms of work.
You asked for my personal highlight: To be honest, not easy to point one out… but in one episode, we had Sebastian Scheib from the Commerzbank Group's Main Incubator as a guest and noticed that innovation management in banks is very similar to a certain degree, facing much the same challenges and independent of the size of the institution. 
About Stadtsparkasse Düsseldorf
Around 1,500 employees work for Stadtsparkasse Düsseldorf. The team of corporate development focuses on idea generation, prioritization and implementation as well as transformation into the organization. Stadtsparkasse Düsseldorf participates, among others, in the two venture capital funds Capnamic Ventures and NEOTEQ Ventures with a focus on B2B tech start-ups and uses the deal flow to identify strategically relevant innovations for themselves at an early stage in the process.
About Robin Nehring
"Do it with passion, or not at all". Under this motto, Robin and his co-host Patrick founded a podcast (www.plaudertaschen-podcast.de ) about the future of banking in early 2020. To date, they have over 55,000 plays and count over 15 hours of podcast whispers to their own. Prior to that, Robin played golf professionally in the 1st Bundesliga between 2004 and 2012, where he successfully competed in numerous national as well as international tournaments. Since May 2021, he has been Head of Corporate Development at Stadtsparkasse Düsseldorf. If he is not on the golf court or working on the future of banking, he lectures about innovation management in the classroom or on the stage as a speaker.