Equal-opportunity and digital – that's contemporary education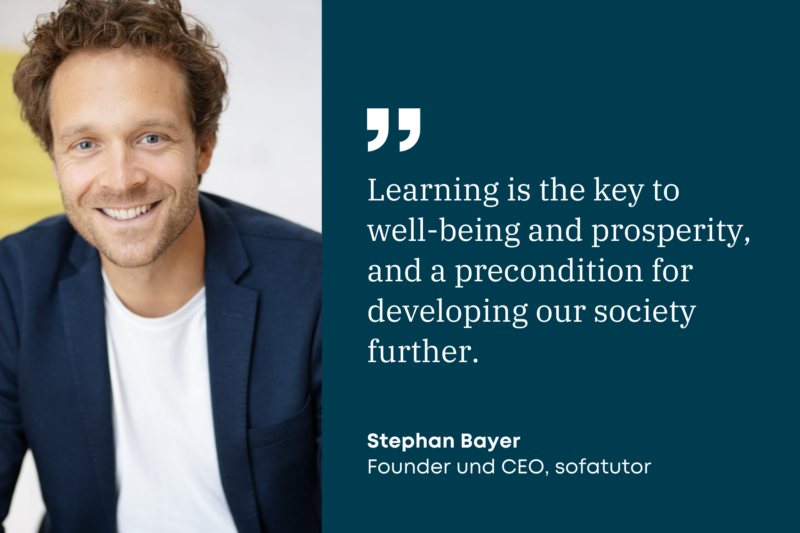 What do you want to move in 2021?
Learning is the key to well-being and prosperity, and a precondition for developing our society further. In a globalised and digital world, Germany can only stay competitive if its education system is continually evolving.
That's why in 2009 we designed sofatutor, convinced that digital media is the future – interwoven with differentiated and school-centred in-person teaching. While the pandemic above all made it clear that there's scope for still more digitalisation in schools. In this area we also want to be active in co-designing this and we ask ourselves every day: how can we best support pupils?
Many schools, and education policy itself, have been overstretched by the lockdown this year. That's illustrated in our record figures at the beginning of the year: more than six million visitors per month to our website. Schoolchildren and parents want digital learning. And they have trust in us! We've also managed to turn after-school help in the afternoons into lessons in the mornings. So the goal for 2021 is to integrate intensified digital content into regular educational activities in a long-lasting and sustainable way.
Because appropriate digital content also offers opportunities in teaching – with sofatutor, teachers can gain an insight much earlier into what gaps in knowledge exist – previously this was often only noticed first when correcting tests and marking exams. With learning videos, children can watch the content over and over again, replaying sequences to absorb the material better.
This spurs us on in a big way, so that sofatutor is constantly developing and that we're able to help shape digital learning long-term – that will also continue to be the biggest motivation for our work next year.
Prospects 2021
Right to education for all children
To move ahead towards a contemporary classroom, where in-person teaching and digital working go hand in hand
To promote self-directed learning, for example with the "flipped classroom" method