The key role of start-ups in the way out of the crisis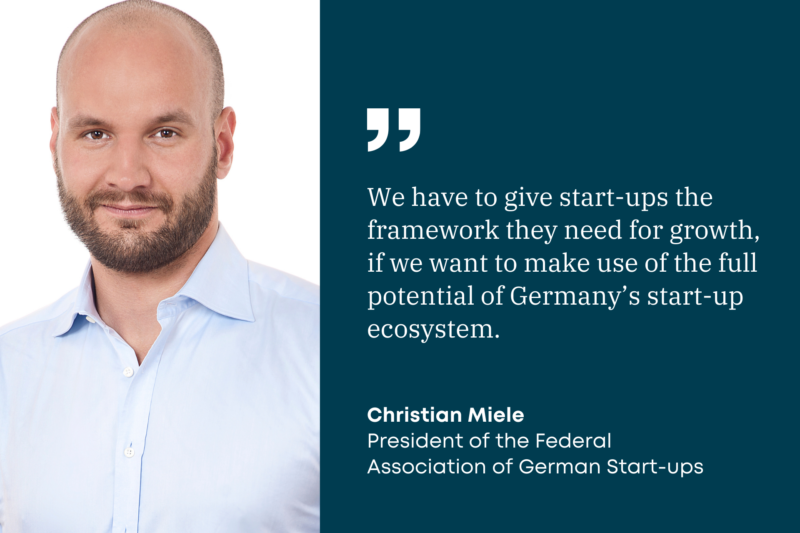 What do you want to move in 2021?
On one side, what I'm wishing for in 2021 is a bit more peace and stability, and on the other more boldness, change and speed. How can these fit together? I wish the situation with the pandemic is brought under control by means of the very soon to be distributed vaccine. I'm also hoping that world politics finds its way back to sanity and diplomacy with Joe Biden's election as US President. Whereas, for the German economy, I wish for the boldness to embrace change and rapidity. The current state of affairs gives us the chance to shake things up, to focus on our strengths, have the courage to take things up a level and go on the attack. In principle the conditions are in place. We've got a high standard of living and education, and our medium-sized enterprises have lots of orders on their books. That puts us in a position to intensively tackle the restructuring of the German economy. Start-ups are playing a key role in this. They're flexible, agile, adaptable and innovative. We have to give start-ups the framework they need for growth, if we want to make use of the full potential of Germany's start-up ecosystem.
But something also needs to happen now. 2021 is a big election year here. Despite this, I'm expecting total commitment and, above all, ambition from the current government. Only if we approach this vital year, when we can hopefully put this Corona pandemic behind us, with boldness and ambition, will we really have the opportunity to come out of the crisis with a bit of oomph. I'd like to help make that happen.
Prospects 2021
For start-ups to become ever more relevant
Start-ups playing a role in digital transformation
Start-ups taking responsibility