The future of school is digital!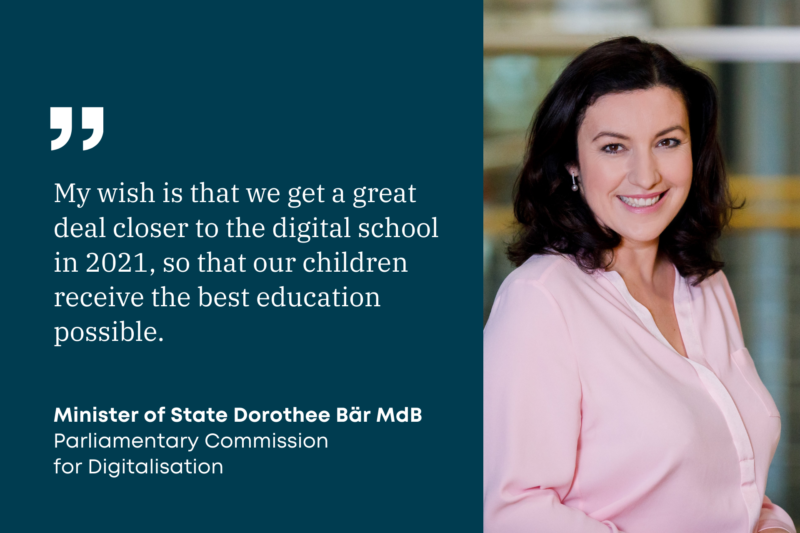 What do you want to move in 2021?
The year just ending has been anything but normal. It's exacted a toll on people and I really wish that, after all the suffering, hardship and distressing experiences, we'll be able to return permanently to the comforts of our pre-pandemic lives.
But I'd also like us to take lessons from the crisis, because it's pointed us to areas where we need to take action. This applies particularly to the theme closest to my heart – digital education. We've learnt the painful way that in this field we're still a long way from where we should be. Digitalisation in schools has of course taken on an unprecedented momentum because of the Corona crisis, but it's also still clear that in these critical circumstances we haven't been able to remedy quickly enough the failings of the past. But the conditions for this are in place. Insight into what's needed and readiness to want change. What's more, we've established the financial requirements that can get things moving at top speed in 2021. To create across the nation the infrastructural groundwork with the requisite connectivity and equipment for schools. But also to introduce, on the basis of a consistent minimum standard, teaching and learning concepts for digital education.
My wish is that we get a great deal closer to the digital school in 2021, so that our children receive the best education possible.
Prospects 2021
Digital education within and outside the school setting
Boosting the share of women in STEM-related jobs
Supporting and strengthening Germany's start-up scene