4 Questions to Solveig Schulze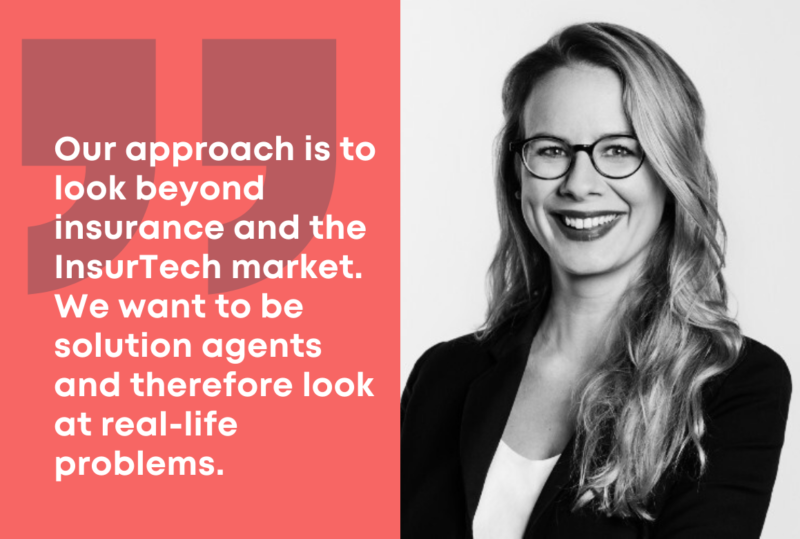 Solveig Schulze is Co-Lead and Director of signals, the innovation unit of SIGNAL IDUNA. Solveig studied politics and is a member of the economic advisory board of the German political party "Die Grünen". Her second studies were in International Business, where she could build a bridge from politics to economics. Solveig previously was part of the founding team of the Lufthansa Innovation Hub. She spoke with our colleague Sebastian Voigt about her new role at signals.
signals is the innovation unit of the german-based SIGNAL IDUNA Group and you are operating several programs, from a pre-seed fund to an open studio. But you also have a Venture Client, which is probably the least known. Could you explain how Venture Clienting works at signals?
signals is our umbrella brand, where we bundle our four initiatives: Our pre-seed fund, our continuing fund, our open studios, and our Venture Client, or as we call it, our Startup Client. Our Startup Client is our startup partnership program, where we tackle the challenges of SIGNAL IDUNA. We focus on SIGNAL IDUNA's real-life pain points by continuously screening the market and our own portfolio for potential startups. We present the most promising ones to SIGNAL IDUNA or even directly to the respective department. If it's a fit for both sides, we go deeper and do product demos.
It's very important to recognize that startups and corporates still speak different languages. After the demos, we support the technical integration and get an overview of which levels within SIGNAL IDUNA we need approval for the partnership. Everyone who has worked with corporates knows how cumbersome this task can become.
We are also involved in the procurement negotiations and then hand the project over to the departments for a small-scale pilot test. After a few months, we meet again with the startup and SIGNAL IDUNA to collect feedback, evaluate the pilot's first results, and think about how we can further support a company-wide rollout.
What kind of startups apply to your Startup Client program? Are they typically Insurtechs, looking for a distribution channel, or also startups from non-insurance-related verticals?
Interestingly, the majority of the startups applying for the Startup Client program are not InsurTechs. Our approach is to look beyond insurances and the InsurTech market. We want to be solution agents and therefore look at real-life problems of our departments, whatever vertical that is.
We currently have a strong focus on SME tech and look into what's happening in the German Mittelstand. At the same time, New Mobility and especially Micro Mobility is a promising space, where we invested in the scooter startup Bird (formerly circ). But also Health Tech is still a hot topic, also accelerated by Covid. Concluding, our partnerships are very broad.
We also invested in the startup Meisterwerk, which digitizes the processes for craftsmen and helps them manage their daily operations. We consider New Work another promising space where we partner with CoachHub, a digitally-native coaching platform. Another investment is Automation Hero, which is more focused on the automation of processes. The broad range of topics is what excites us and shows that digital transformation impacts all areas.
What is your goal for the next five years, what do you want to achieve and how do you determine your success?
That's a big question. Especially in the innovation ecosystem you usually don't want to set goals for so many years ahead. But I think there are different dimensions to your question: First of all, we want our fund to perform well financially. But it's much more than that.
We also started signals to accelerate and support the digital transformation of the SIGNAL IDUNA Group. We want to establish new partnerships and new formats to give all employees a different perspective on digital transformation by showing them the exciting innovation that we see in the market. We want to spread this innovative mindset inside the corporation. It will be a key to success for corporates in the future. One of our goals is to enable and inspire everyone to build new things on their own.
I see a new generation of concepts arising when I look at other innovation hubs in the market today. So we have to constantly ask ourselves: how can we transform ourselves to stay one step ahead? A few years ago, everybody went on learning journeys to Silicon Valley. This was helpful, but we have progressed since then. We don't need to explain the relevance of digital transformation anymore, everybody knows software is a big thing, and we all understood how relevant data has become. Now it's really all about enabling corporates to work on relevant topics internally and then we can take the next step.
I think that in 5 years we won't have the same organization as today, we will open our ecosystem. It's a strong goal for me that we can open up our ecosystem for other German Mittelstand players, to help Germany tackle its digital transformation.
I am not an insurance expert, but SIGNAL IDUNA's ecosystem strategy, agility, and willingness to transform are really impressive. You also chose a special leadership format, you are co-leading signals together with Saskia Sefranek. What are your learnings with this rather new concept and is there anything you don't like about it?
That's an interesting question because it's also new for Saskia and me. We were asked quite skeptical questions before, for example, if we were only working 50% now, which is not the case. After our first year together, I have to say that I am enthusiastic about it and only see advantages. We make ourselves better, we make decisions more efficiently and advance much faster because you can no longer put things off. I can't really think of something that I don't like to be honest. It really exceeded my expectations. But the transparency is also quite time-consuming, there is nothing you don't share with each other, that's what makes the dual leadership work. Additionally, I think it also helps your personal life, because you don't take your job home. At the same time, we do a lot to keep our personal relationship healthy, which's crucial. I think you should definitely try it out if you can, it will definitely help the dynamic of a team.
Thank you very much for your time, Solveig, I really enjoyed it.
Thank you, Sebastian.
If you want to learn more about signals, feel free to reach out via LinkedIn or their website.