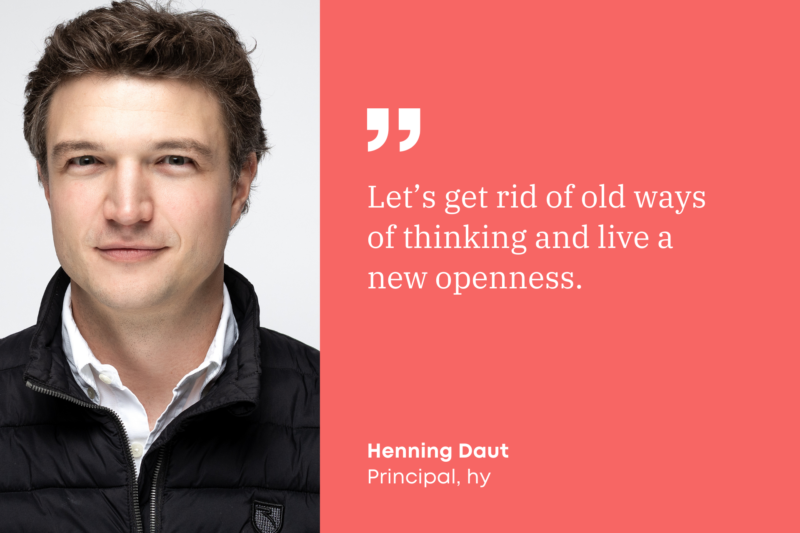 … for more openness, more collaboration and partnership, together with more innovation in markets, industries, sectors and silos.
What do you want to move in 2021?
With our projects I'm always more and more fascinated by the unbelievable competence and know-how in our partners' companies and the unique expert status that is vested in our partners. The whole is only surpassed by the passion to adapt products and business models over decades and even generations. A lot of this is based on the work of individual pioneers, strong teams and terrific networks.
The flip side: impulses for new products and business models are today coming from precisely those realms till now relatively untouched by established companies that were either totally unaware of them or just ignored them.
So thinking outside the box pays off – novel ideas, new partners, new thinking, fresh perspectives inspire. Spurring on management levels, all staff, and safeguarding business for the coming decades and generations.
Challenges like digital transformation have had to be faced alone; this is primarily a process-based, structural and cultural theme running through the core of every company.
The new overarching themes, like resilience and sustainability, aren't exactly that big yet. They're themes for which you need strong partnerships, open innovations and new thinking, beyond established borders and limits.
To be successful over the long term, the whole value chain must be thought through and external innovations need to be pursued. Let's get rid of old ways of thinking and live a new openness, embrace new partnerships and in this way create the greatest added value for companies and coming generations. Let's make it so.
Prospects 2021
Sustainability as an essential aspect of new business models
Innovations and partnerships along the entire value chain
Values-based, enterprise-driven consultancy
Bonus: synthetic media