Doing is like wanting, only more in-your-face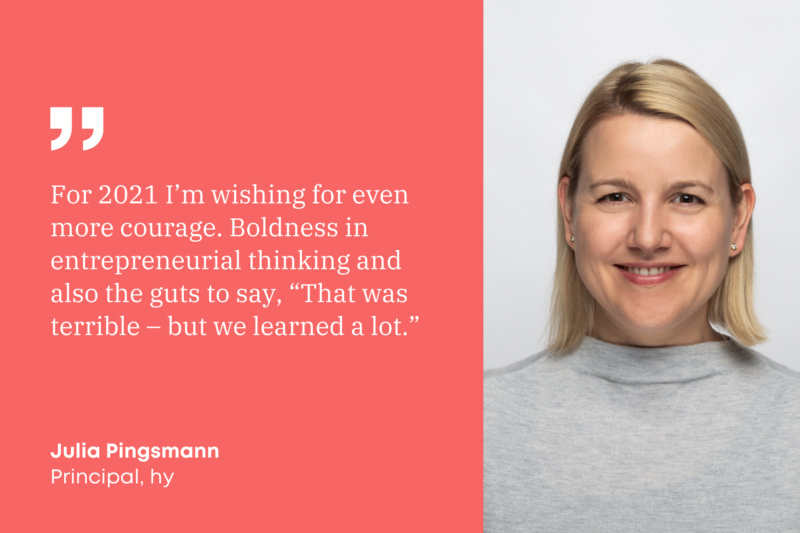 What do you want to move in 2021?
2020 – hell, what a year! I'm wishing loads of things for 2021: to spend more time with friends and family, more time in the natural world, more time for music, for sport. Actually, more time to do stuff rather than just talking or thinking about it.
And this goal drives me, not just in my private sphere but also with and for hy. I don't want to just identify and assess business opportunities but also to genuinely undertake and implement them. What's needed for that, besides a top team and the right underlying support structure is – in my view, especially – courage.
For 2021 I'm wishing for even more courage. More guts to do away with PowerPoint- and Excel-speak and to set up business models that actually function in reality. Boldness in entrepreneurial thinking and also the guts to say, "That was terrible – but we learned a lot." The nerve to say a resounding yes as much as to give a clear no. Courage for ambitious objectives, without losing respect for the task in hand.
We're living this resolve at hy, and I really enjoy working in and with diverse teams of businesspeople and strategists, who've all made brave decisions and shown an entrepreneur's love of risk.
Validating a new (digital) business opportunity for our clients means, for me, validating a bet on the future, every time. Does this business model have legs? What does the market say, the customers? Do we have here an appropriate product–market fit? Is it a growth area that can be occupied? Validation ends with a yes or a no. And for 2021 I wish to put my yeses into practice with more resolution.
Because, with every new digital business model implemented, we're not just putting a new product on the market. We're also often bringing change to the company itself – and showing everything that's possible.
2021 is full of possibilities, so let's be courageous together!
Prospects 2021
Realising more business opportunities
Partnership and collaboration
Development and growth of a diverse team