Others do good, we do goods!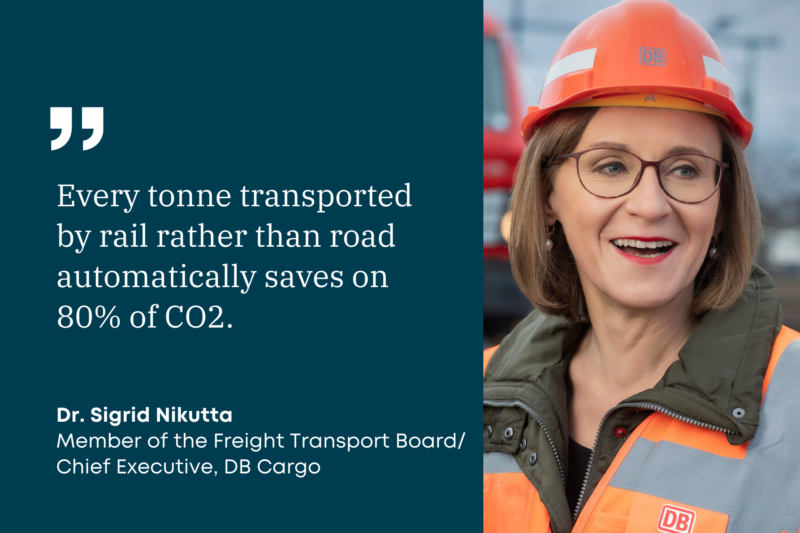 What do you want to move in 2021?
What I want to move in 2021, by definition, are goods. And more goods than ever before! We have the historic chance to restore to rail freight the importance it deserves.
It's the simplest and cheapest measure for protecting our climate. Germany and Europe can only achieve their climate goals when significantly more goods are transported on climate-friendly railway lines. A train can take the place of 52 lorries. And every tonne transported by rail rather than road automatically saves on 80% of CO2. Fewer tailbacks on the motorway, less traffic in towns and cleaner air are possible; we need only to do it. Why is just 18% of all freight being carried by rail today? That's the question everybody should be asking.
We buy sustainably produced muesli in bio-shops. But how was it brought there? My personal goal for 2021 is for us not to just be buying sustainable products but also to be asking ourselves how these are transported. In an environmentally friendly and climate-neutral way on railways? Or motoring through Europe on trucks?
I hope we'll soon have an official seal on products: "Climate-friendly: brought to you by rail". This way, we can all do something as consumers to protect the environment too. We're noticing this change in thinking with many companies: transport by rail is increasingly becoming trendy again! That makes me feel great and that's why I'm working on this. Because, whether they have their own track connections or not, every firm can get their goods carried by rail and so can contribute to a world worth living in.
Prospects 2021
Others

do

good – we

do

goods! And everyone should know!
We're using this historical window: more transport by rail is starting to become reality.
Every tonne on the tracks automatically uses 80% less CO2.