Pandemic, China crisis, Brexit and Biden play to POLITICO's strengths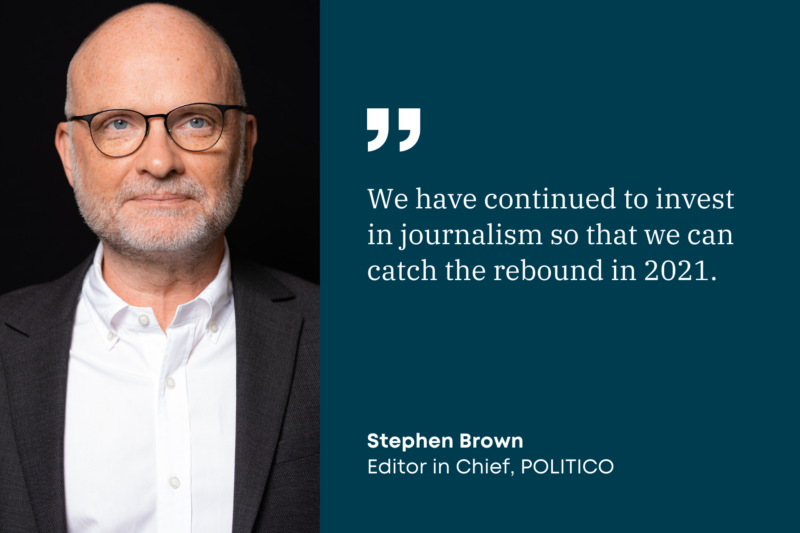 What do you want to move in 2021?
The coronavirus pandemic has played to POLITICO's strengths by highlighting the need for high-quality, policy-led journalism that cuts through the noise and across national and ideological borders. While 2020 has been incredibly tough for the media business in general, our public audience and premium subscriptions have continued to grow and we have continued to invest in journalism so that we can catch the rebound in 2021. 
Next year we will be expanding our coverage of tech policy in general, we'll be taking a much closer look at Chinese influence in Europe, and we are about to make a big impact on the French political scene next year, with ambitious expansion plans in Paris. Fortunately, French President Emmanuel Macron helped lay the groundwork by demonstrating that he reads POLITICO Europe when he picked a fight with Germany's defence minister over an opinion piece she wrote for us. 
Since we already know UK Prime Minister Boris Johnson is an avid reader of our London Playbook newsletter, it's only natural that we should also start thinking of ways to ensure the current and next German chancellors show that they read us too.  
Prospects 2021
Biden will put the spotlight back on multilateral bodies like the

EU

,

NATO

,

WTO

and diplomatic efforts like the Paris Climate Accord and possibly the Iran nuclear deal. That means frantic transatlantic activity which will play to

POLITICO's

strengths.
Post-Brexit Britain will be eager to sign trade deals around the world, especially if there is no deal with the EU, which will be a major opportunity for our specialist trade reporting teams.

Europe and the United States will try, and probably

fail, to join forces on trade and digital issues against China. Again, this plays to our strengths as we expand our coverage of tech politics and Chinese influence in Europe and America.